What I really want to scream out loud is... WHY CAN'T THEY MAKE A TRAVEL COFFEE MUG THAT DOESN'T SUCK?!?!?

We can send a man to the moon (or at least we did once...it was only once, right?), but we can't make a travel mug that works properly?

Here are nine travel coffee mugs. There's something wrong with every single one of them.
1. The Drip-drop Travel Coffee Mug
This mug seemed great until the second time we used it. It's well insulated, easy to clean, dishwasher safe. But see that hole on the bottom.
When you put it in the dishwasher, water collects inside that little hole. Unfortunately, not all the water comes out of the little hole when you shake it over the sink to empty it. You realize this when you take your first sip of coffee and the water that was still trapped spills all over your lap making it look like you peed your pants.
Why do I keep it?
If I'm sure to get all the water out after washing it, which is rare, it's a great mug.
2. The Piece de Crap Travel Coffee Mug
The is a porcelain mug. About a quarter of the time the lid won't suction onto the cup. I push it down, it pops back up. I push it down, it pops back up. Just like in this picture.
Why do I keep it?
It's microwaveable and
when
I can get the lid on, it's a great mug.
3.
The Set My Hand on Fire Travel Coffee Mug
The porcelain mug above came in a pack of two, so it gets two slots on this list. The second problem with this mug is when you microwave it and miss touching the rubber cup sleeve, you scald your hand.
Why do I keep it?
It's microwaveable and so I overlook all it's other faults.
4.
The Kil
ling Me Slowly
Travel Coffee Mug
Steve got this mug as a "gift" from his apartment complex before we got married. That was more than 12 years ago. That was before anybody cared about BPA. Every time I drink from this mug, I think of the toxins entering my body and how I'll have cancer next year.
Why do I keep it?
Aside from the fact that it's probably killing me, it's a great mug.
5. The I Might Be a Redneck If...I Drink Out Of This Travel Coffee Mug
This Karuba travel mug is dishwasher-safe and doesn't leak. But I look like a redneck when I drink out of it (the worn baseball hat and red puffy vest don't help) and Steve refuses to take it to work. It also doesn't help that it's top heavy and can tilt in your car cup holder and I'm sure there's that whole BPA thing in it too.
Why do I keep it?
As long as I don't take it into a public place or drink from it while sitting at a stop light or let it tilt in the coffee holder or think about it giving me cancer, then it's a great mug.
6.
The Dribble on My Work Clothes Travel Coffee Mug
This is the mug that seemed to be the perfect travel mug until after about 10 sips when we'd have to
really
tip our heads back to get more coffee. That's when it would dribble out through the seal and right onto my husband's work clothes.
Why do I keep it?
I didn't keep this. It sucked too much.
7.
The It's So Cool We Have to Keep It Travel Coffee Mug
I found this mug at Goodwill. It's a cool mug. It's Caribou, it's stainless steel, keeps your coffee warm, it has a nice drink spout, and it looks like a giant suppository. But we've never used it. It's not dishwasher-safe.
Why do I keep it?
I'm hoping to get past my laziness some day and use it. I think it will make me look cool.
8.
The Pot of Coffee Travel Coffee Mug
This is the perfect mug, it holds an entire pot of coffee. Except it won't fit in any cup holder anywhere. If I placed it on the little "table" in my minivan, as soon as I made a turn it'd tumble right off into the floor and roll back and forth like a snowboarder on one of those half-pipe thingies leaving a trail of coffee in its wake. Plus, holding it I'd feel like a leprechaun.
Why do I keep it?
I don't actually have this one. I found it at Goodwill and took a picture of it. I knew better than to buy this stupid thing.
9.
The Brown-Noser Travel Coffee Mug
This is one of those "January Tumblers" from Starbucks. It's about $30 and you can bring it in to Starbucks and get free coffee in it every day for the entire month of January. We got it as a gift for Christmas. The problem began when I noticed a brown spot on the tip of my nose. I thought maybe it was chocolate at first, but it kept appearing every day. It turned out to be from the coffee mug.
The coffee collects on the little nub that fits inside the hole.
I drink from the mug and my nose hits the nub. Hence, the brown nose.
And don't even get me started on its height. I don't have any sundae spoons, so in order to stir in my nine packets of sugar I have to use a butter knife.
Why do I keep it?
Since it's from Starbucks I look cool when I drink out of it (like in this picture).
Does anyone out there have the perfect travel coffee mug? If so, I need to know where you got it because I want it!
Don't want to miss a post? Subscribe by sticking your email address in the box below. I won't send you any spam or crap like that, just my blog posts...wait.
This post is part of Finish the Sentence Friday.
Thank you to our guest host this week, Tarana,
of Sand in My Toes
,
for coming up with our sentence.
Next week's sentence is:
My favorite decade was...

(co-host: Kelly McKenzie of Just Typikel)
Finish the Sentence Friday is on Facebook! Come join our group - it's for anyone who's ever participated in Finish the Sentence Friday. Click HERE. We talk about FTSF while getting to know each other and we give you a sneak peek of the upcoming sentences.
Follow the Finish the Sentence Friday Pinterest board HERE.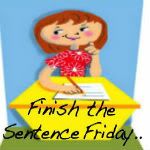 Read and comment on the two posts before yours. Spread some blog love by sharing your favorites on Facebook or Twitter or social media of your choice.