Welcome back to Finish The Sentence Friday (FTSF). We give you a sentence and you finish it (however long or short you'd like). Write a post and link it up, or if you don't blog, feel free to finish the sentence in the comments for everyone to see.

This week's sentence:
When I was younger I tried...
Next week's sentence to fini
sh:
When it comes to reality TV shows, I...
Your FTSF Hosts:
Before we get to FTSF, let me tell you about my AWARDS:
I received a bunch of awards/nominations this week that are now residing in my left sidebar. So, I'll sum up some thanks here. Go check out their blogs.
Dudette Man Card from Dude Write. I received two Chairman's Choice Awards for my Colon like a Space Shuttle post. I was really excited about this one because the awards were given for my writing/story from individual people. First one of its kind for me.
The following awards were given to me by members of the Bloppy Bloggers blog support group I'm in, which all bloggers are invited to join. Sometimes this is how we support each other...by attacking each other with chain letters and calling them awards. Really, I do love these people (led by
Julie DeNeen
) and the support they give in this crazy blogging world. I can ask the stupidest questions (and I do) and they don't laugh at me - at least not where I can read.
Gargie Award (the award is WAY a little creepy looking) - awarded by
Janine
(my co-host)
Versatile Blogger Award - awarded by
Stephanie at
Mommy, for Real
(my co-host),
Rich at
That's Life...Sometimes
, Ruchira at
Abracadabra
, and Emily at
Oh Boy Mom
!
Now, onto FTSF...which also lines up with the "Firsts" series I started in October, of which I got two done and then got lazy...until now...
When I was younger I tried…to sell beer out of my locker.
My parents are being shocked right about...NOW!
I would never consider myself an entrepreneur, but in high school I started a little business selling candy. It started when our high school was doing a fundraiser. We were selling candy bars to raise money, probably for some field trip or giant eagle or something like that.
Your personal 10th grade brew crew.
I threw some Jolly Ranchers I bought at High's Dairy Store into my candy bar box. I charged 25 cents for the 10 cents Jolly Ranchers. I sold out. So I bought* more and sold more. I branched out to lollipops and other cheap candy that could pull in a good profit.
I walked in the door of each of my classes and kids swarmed around my desk to dig through my goods. I carried my candy box everywhere: onto the school bus in the morning, to every class, and on to the school bus in the afternoon. I was known as the Candy (wo)Man.
Sometimes, my friends and I walked to another friend's house after school. One day she had a big cooler full of beer on her back porch. I didn't like the taste of beer, so my mind wasn't clouded by thoughts of an afternoon buzz, but rather by $$$$$. I asked her if we could take them. Shockingly, she said she didn't care.
So my friend and I loaded up our pants pockets (the 80s styles were great for smuggling because everything was huge, including my pants pockets), coat pockets and the fronts of our coats.
The next day, I packed up the Colt 45 (or whatever choice beer it was) in a brown paper bag, placed it on top of my candy box and stood at the bus stop. I got on, ignored the bus driver, as usual, and went to my seat. At school, I shoved the bag in my locker and considered my potential customers.
A side note: I was a fairly good student with no record. Once, I went to the assistant principal's office in ninth grade for calling a substitute teacher a ditz almost under my breath (it took me a while to learn the word respect...like until I had kids). That was it. So I was rather unsuspecting.
By lunch time I had a buyer (we've reconnected on Facebook). I took him to my locker, showed him the goods, took his money, and gave him the contraband.
I think God was watching out for me because had I been able to get my hands on more beer, or even stronger stuff, who knows how far I would have taken it; I loved money that much. Thankfully, my dealing days ended there.
My candy sales ended not too much later, after about a month or two. I kept letting all the cool and popular kids write me I.O.U.s, because I thought if I said no they'd think I wasn't cool – which, I'm sure, they didn't anyway. They rarely paid me back and I, just like poor Atari, but much earlier in my career, filed for Chapter 11.
*another confession: Some of the candy, I stole. Oh gosh, I'm sad to admit it. Years later I considered going back and confessing to the High's Dairy Store owner my crime and paying him back. But they tore the store down and a highway runs right through where it used to be. Thank goodness!
Now I'm off to wait for my parents' calls/emails.
So, what kinds of things did you try when you were younger? You don't have to confess anything. It could be juggling. Actually, I tried that too. I learned how to juggle from my English/Yearbook teacher, who used to be a clown, while I was selling my candy in his class.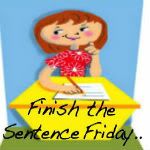 If you're linking up, follow your hosts.
We'll be tweeting/sharing some of your posts.
(I had the word hostesses in there, but postesses didn't sound right and I thought maybe you'd think of Twinkies)
Read and comment on the two posts ahead of yours, then if you want to share your favorites on Facebook or Twitter use the hashtag #FTSF.
Loading InLinkz ...