Right now, I am thankful for…a lot of things, but…
I sat down to write a post on what I'm thankful for in honor of Thanksgiving and as I ran through the myriad of things I felt thankful for, I caught myself thinking, "but…"
I'm thankful for my kids, but they drive me to the point that I want to drink.
I'm thankful for my husband, but he chews with his mouth open.
I'm thankful for my friends, but I feel overwhelmed and stressed out trying to be a good friend and maintaining those friendships amidst my hectic and busy days.
I'm thankful for my warm home, but it's a filthy pig sty full of too much crap and I can't keep up with it. Ever.
I'm thankful for my health, but I had a panic attack this week because I was convinced I had cancer because I'm a hypochondriac. I only believed it was a panic attack after I ruled out asthma with a side of heart attack.
I think what it comes down to, is like Huey Lewis and the News, I need a new drug. Actually, I'm not on any drugs, which is why I think I need one. I think I've lived in denial too long. Life is freaking hard. Was it this hard 50 years ago? There weren't this many opportunities and there wasn't as much information for me to filter all. day. long. And people didn't have this much crap in their houses. I heard that in 1950-something the average kid had five toys and today the average kid has 250 toys (don't quote me on those exact dates/numbers, but I remember being shocked) and when you have three kids that's 750 freaking toys. No wonder I'm whacked.
I've found myself tweeting things like this lately:
My favorite thing about reality is escaping it.

— AnotherBottleofWhine (@KateWhineHall) October 17, 2013
Avoidance may not be the best coping mechanism, but it's by far my favorite.

— AnotherBottleofWhine (@KateWhineHall) November 21, 2013
I'm having one of those days where I can see why people become alcoholics.

— AnotherBottleofWhine (@KateWhineHall) November 18, 2013
I've found myself, more and more, trying to escape, avoid and really craving a drink or six.
So I called my doctor this afternoon and made an appointment for a physical – the Deluxe package. I'm even having a mammogram – that better make for a good blog post (it did). Making the appointment calmed my hypochondria-driven anxiety. I usually scare myself into thinking I have cancer at least once a year. So far I haven't had it, except for basal cell carcinoma, which is like Cancer Lite because it can even be cured with a topical cream these days. So that doesn't even count in reducing my likelihood that I'll have a bigger, scarier cancer. While I'm at the doctor I'll talk to him about the anxiety.
Next on my list is to burn my house down. I'm kidding, insurance company, kidding. But I do need to simplify. But then simplifying sounds a lot like work and it would just be easier to burn it down.
And I know I'm not alone on this anxiety thing. Just look at how many people hearted and retweeted those tweets. I'm not alone. Most people I know are medicated or in counseling or are medicated and in counseling. I'm not alone.
So, I guess this year, I'm thankful that there are doctors and drugs and Jesus and friends and Twitter and my husband and Netflix and all those other things that can help calm my nerves, along with all the things that cause me to need or crave those things. I just wish it were easier sometimes.
This post is part of Finish the Sentence Friday.
Get an email every time I write about walking (and other really important stuff) by subscribing to my blog, HERE, or you can follow me on Facebook or Twitter.
You can wear and drink out of my tweets now! Find them at my Zazzle store!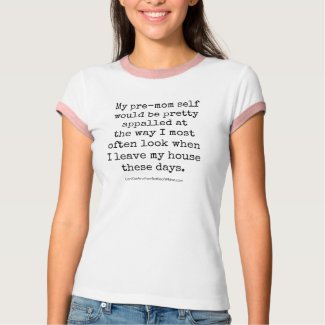 My pre-mom self would be pretty appalled t-shirt
by
KateWhineHall
Make
t shirts on line
at zazzle.com
A butt-load of the funniest parenting tweets all packed into one place! The Bigger Book of Parenting Tweets, available on Amazon. Or try the original, The Big Book of Parenting Tweets.