When it comes to reality TV shows, I...
would probably love them all. But I don't watch TV. I've got this blogging and social media cauldron to obsessively stew over, so I have little time left for TV.
Update (September 2013): I'm addicted to Netflix.
But if I stumble upon it, like at 2am because I accidentally drank a cup of what I thought was decaf House Blend at four in the afternoon, then I'm sure to be burrowing into the couch for a marathon of Hoarding: Buried Alive. I love that crap. W
hen watching reality TV, I resemble nothing less than Gollum panting over his Precious. So that's another reason I can't watch it.
My first foray into reality TV was MTV's The Real World. They had the marathons on weekends sometimes and I would sit on my couch, fingers orange from Doritos, sipping my Cherry Pepsis, entranced like a zombie. Then I moved on to Road Rules. More recently, I've watched John & Kate Plus Eight, 432 Kids & Counting, and What Not To Wear, but haven't watched much since, other than the occasional Hoarding.
A side note: I remember feeling offended once because I heard that watching reality TV was like voyeurism. I thought that was absolutely ridiculous. When I think of voyeurism, I don't think of watching TV, I think of situations like the time I drove to my ex-boyfriend's house and looked in all his windows to see what he was doing. Now that's voyeurism. Wait. Did I just type that out loud?
Since I hadn't watched anything in a while and wanted to have a current post on the topic, I decided to ask the Twitter/FB-world for suggestions on reality shows to watch. I got a lot of suggestions: Duck Dynasty (WTH is that that?), Biggest Loser, The Bachelor, The Real Housewives of Beverly Hills, and Wife Swap. All together they sounded like a big ball of cultural enlightenment.
So I wrote them all down, thought about looking up the dates and times when they'd be on and decided that was too much work, so I went to the library to check a few out instead.

But when I got there I got distracted and instead picked up a copy of "C to the F." For those of you that don't speak hip-hop, that's Chariots of Fire. I know this Academy Award-winning movie has nothing to do with reality TV, but I've been wanting to watch it since 1981 and it just seemed like the time was now.

So I took it home and I set the portable DVD player on my lap while Steve and I laid in bed. He fell asleep during the opening credits.

All I could think of during that opening scene of the guys running on the beach
with the powerful music playing, aside from the dirt splattering them in their faces and how outright funny that was, was Clark and Rusty Griswold running in slow-motion toward Wally World. So, clearly, the movie was doomed from the beginning because you have to be in a certain frame of mind to enjoy
C to the F,
not the "I was planning to get a reality TV series, but got distracted by artsy crap instead" frame of mind.
I got bored about half way through - but I made it that far!

I know. I should have just checked out Honey Boo Boo instead. I'm sure that wouldn't have put me to sleep. Or maybe I should have just checked out what my ex-boyfriend was watching on his TV.
Do you watch reality TV? If so, what's your favorite? Tell me in the comments.
Next week in honor of V-day the sentence to fini
sh i
s:
The most-memorable Valentine's Day I ever had was...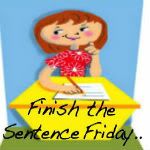 If you're linking up, follow your hosts.
We'll be tweeting/sharing some of your posts.
Read and comment on the two posts ahead of yours, then if you want to share your favorites on Facebook or Twitter use the hashtag #FTSF.
Bloggers: Check out this encouraging FREE webinar from humorist D.J. Paris at Thoughts From Paris. If you're struggling with coming up with things to write about on your blog, he has some very practical tips. I loved the class enough to promote it for zilch in return. Click here.
Loading InLinkz ...