The one thing I'll never compromise on is…moving out and leaving my old house looking like a pig sty.
Okay, that's not entirely true. We all have different standards – which became very apparent to me last week when we moved. I cleaned and scrubbed our old house harder than I ever cleaned and scrubbed it in the five years we lived there – perhaps maybe my entire life. But the new owners didn't see that – they just saw what was wrong with it…according to our lawyer. The owners of our new house, I'm sure, took pride in how they kept their home, but I found myself also focusing on the negatives.
Buying a new house is an adventure. Typically, you're excited about your new digs, your new yard, your new neighborhood, your new everything. But if things don't meet your expectations when you arrive at your new house, you can feel let down. Or even like you made a poor choice on the house you chose to buy.
Based on my recent home-buying experience, I'm giving you some ways that you can make the new owners of your home feel welcome instead of like they made a major mistake.
Clean the house. You're really only required to "sweep clean" the house, but it's amazing the impression you leave when the new owners find stains in the shower, or dust bunnies, makeup residue and other unidentifiable substances in the cabinets and drawers. Clean that crap out. Those Magic Erasers do wonders – seriously, use them. Oven cleaner? That stuff is amazing. Use it.
Get everything out of the house. You should have everything cleared out of your house for the final walk-through. The new owners should be able to see all the walls and floors to make sure there are no unexpected damages and that you repaired everything as required. If your crap is still all over the house, the new owners can't see what they need to see. Get your crap out.
Be out of the house. The new owners are coming, but you're still trying to move out when they show up with their movers. One word: awkward. Plan ahead and get out.
Don't leave trash for the new owners to dispose of. You might think, "Oh, the trash collectors will come and pick this up, no problem, all the new owners have to do is drag it to the curb." Well, if it's spilling out over the top of the can and the next trash day isn't for a week then the new owners are left with a mess the flies will adore. The new owners will have a ton of "move-in" trash themselves. And some cities charge a per-bag fee for trash. Do the new owners a favor and take your trash with you. Dump it at McDonald's or something. That's probably not allowed, but whatever, must get it out.
Fix broken stuff, including light fixtures and ceilings. If your movers broke something, fix it. If you have a light with a short, fix it. We left a broken hand-towel rack. We had no idea how to fix that stupid thing and didn't notice it until just before we left. We are slackers.
Remove dead plants and trees. Our previous home owners left a small dead tree, a dead blueberry bush and a garden covered in weeds. At least I see the garden as a project. We left a dead tree in our old yard – but there was a new shoot growing out toward the bottom, so it's totally justified…in my head.
Don't leave behind crap that won't fit on your moving truck – the new owners probably don't want it. Okay, we broke this rule. We didn't have any room to fit our beautiful planter with shamrock plant. We left it outside on the back patio and posed it as a decoration. I miss our shamrock plant.
Leave manuals for appliances left in the house. You won't need them where you're moving, but the new home owners will. Give them the manuals. Leave them in a place where they can easily find them – like the kitchen counter. We learned this from the people we bought our last house from. I can barely work the stove in our new house, much less all the other technical things that were left behind. I suppose I can search for the manuals online, but that's work and work sucks.
Mow the lawn and trim the bushes. Don't leave the lawn looking like a corn field, especially if the house is in a a subdivision with a home owner association.
Be out of the house. Again, get OUT!
If you have to leave something behind, make it beer or margaritas. This is always helpful. The previous owners of our new house left beer. I would have preferred margaritas and it wasn't my husband's favorite kind of beer, but it was free beer. I left free ice cubes for our new home owners…I think. Actually, I may have taken all those too.
If you're not going to be out of the house when the new owners arrive, don't bad-mouth the neighbors to the new owners. Let them figure it out for themselves. Fortunately, we didn't even have to see the new owners of our home, so we didn't have to fight this temptation.
Leave brochures and pamphlets about local interests. If you know the people moving in are from out of town, leave them some brochures of your favorite places. This is going way above and beyond helpful, and you deserve a freaking trophy if you do this. I didn't even think about doing this.
Leave a map and key of the plants and vegetation in your yard and how to care for them. Holy crap, who has time for this? This is going way beyond hospitable. But, you know, I would have loved to know what the various bushes and trees were in my old yard and how to take care of them. I planned to do this for the new owners of our old house, but I lost my picture and key and couldn't remember the names of the bushes nor how to take care of them – so that whole idea got scrapped.
The most important thing to do when leaving your old home to new owners is to clean it and be out of it. Sometimes you can do more to make their experience more exciting and enjoyable, but as long as you do your best, you can feel proud to pass your home on to someone else.
Do you have any suggestions to make new home owners feel welcome in your old home? 
This post is part of Finish the Sentence Friday. Thanks to our guest co-host, Tarana of Sand in My Toes, for the sentence suggestion.
We will be taking the entire month of July off from FTSF. The next sentence will be:  The most amazing thing my body has done is… (co-host Ruchira Khanna) on August 8, 2014.
Finish the Sentence Friday is on Facebook! Come join our group – it's for anyone who's ever participated in Finish the Sentence Friday. Click HERE. We talk about FTSF while getting to know each other and we give you a sneak peek of the upcoming sentences.

Follow the Finish the Sentence Friday Pinterest board HERE.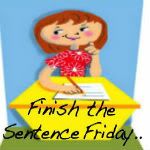 Your weekly hosts:
Mommy, for Real, Janine's Confessions of a Mommyaholic, Finding Ninee, and Me
Read and comment on the two posts before yours OR share them on the social media of your choice.
[inlinkz_linkup id=417826 mode=1]